About Charlie
The Charlie Horse was born when we acquired a wedding venue and bar. As new owners in a pandemic, we saw the need for outdoor weddings and events and wanted to be able to accommodate those needs with our off site catering and mobile bar service. Having a three way liquor license allows us to do so and we wanted to do it with pizzazz in order to make the event special! Charlie is actually named after our rescue dog—Charlie, who has brought so much joy to our family. We wanted to name the trailer after him so it could bring the same happiness to your experience!
The Horse Trailer
The mobile bar is a vintage trailer that was professionally built to our desired specifications. The bar comes equipped with a serving window and a kegerator with a triple tap system. "Charlie" can be decorated to fit in perfectly with any event from tailgates to weddings!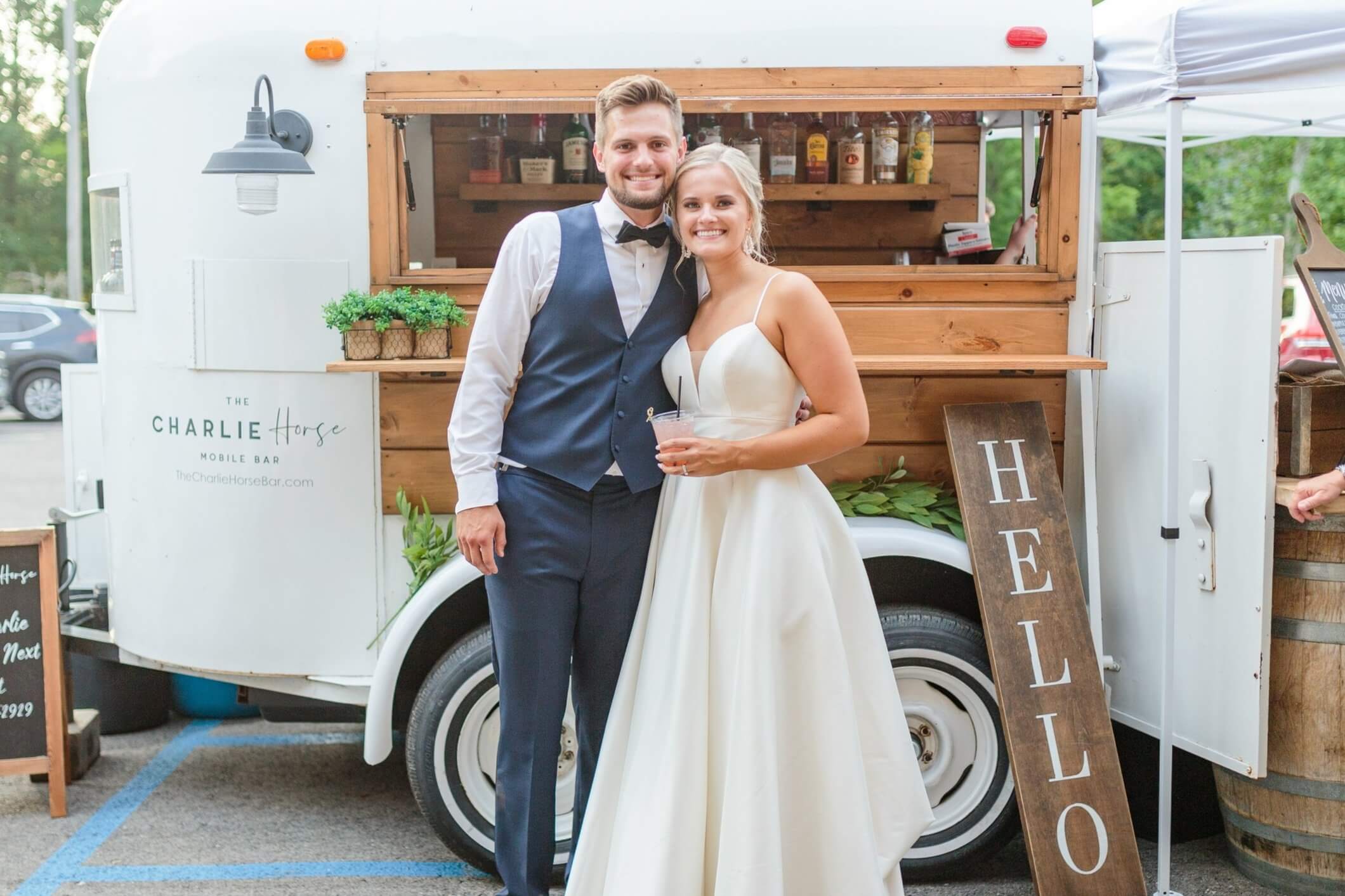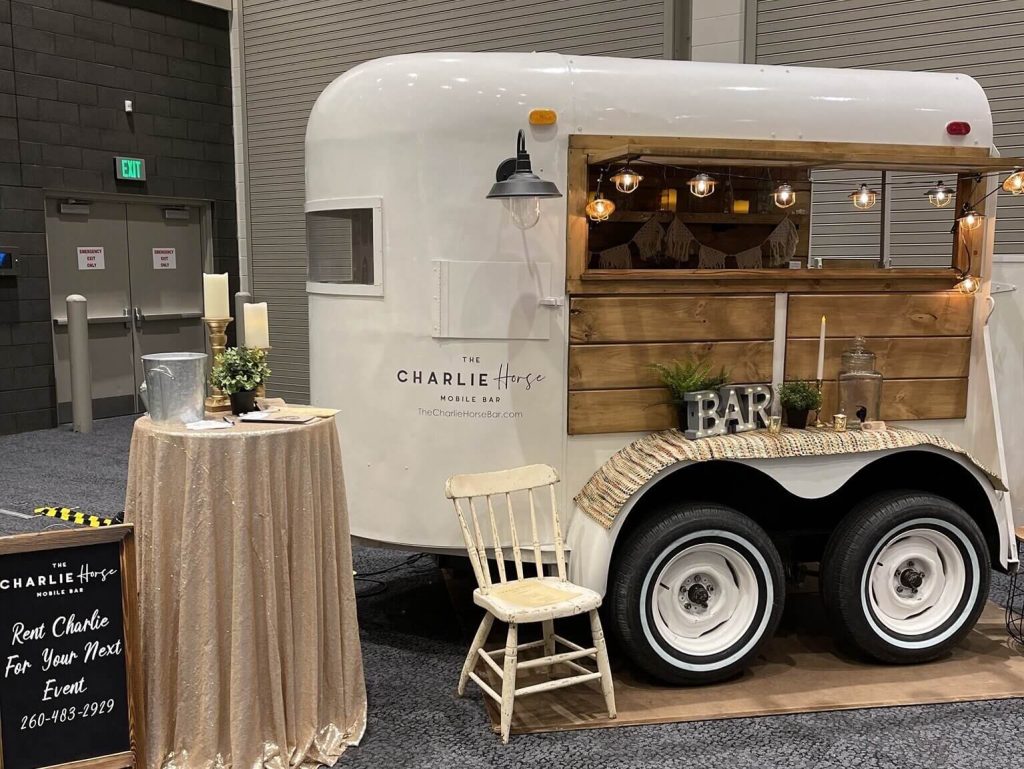 The Mobile Bar
Our bar can be tailored to serve your favorite drinks. This includes everything from delicious signature cocktails or mocktails to brews on tap. Our bartenders have a diverse background, allowing our cocktails to focus on using fresh fruits, spices, and herbs. We thrive on creating unique events and cocktails for each occasion. The Charlie Horse services the Fort Wayne area but we love a good road trip, too! We are open to any ideas or collaborations you may have in mind, whether it's a public or private event. We can't wait to meet you!
Whiskey Barrel Bar
The Charlie Horse Mobile Bar isn't just a trailer, we can setup our whiskey barrel bar for your next event or function.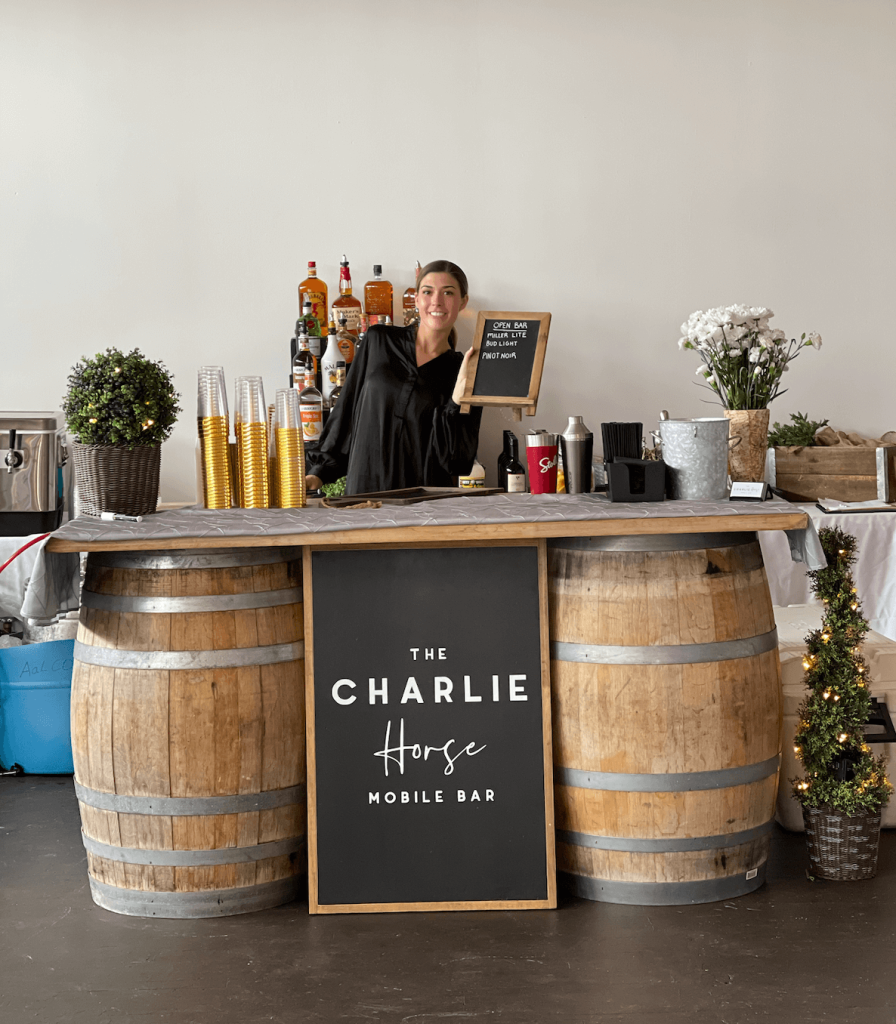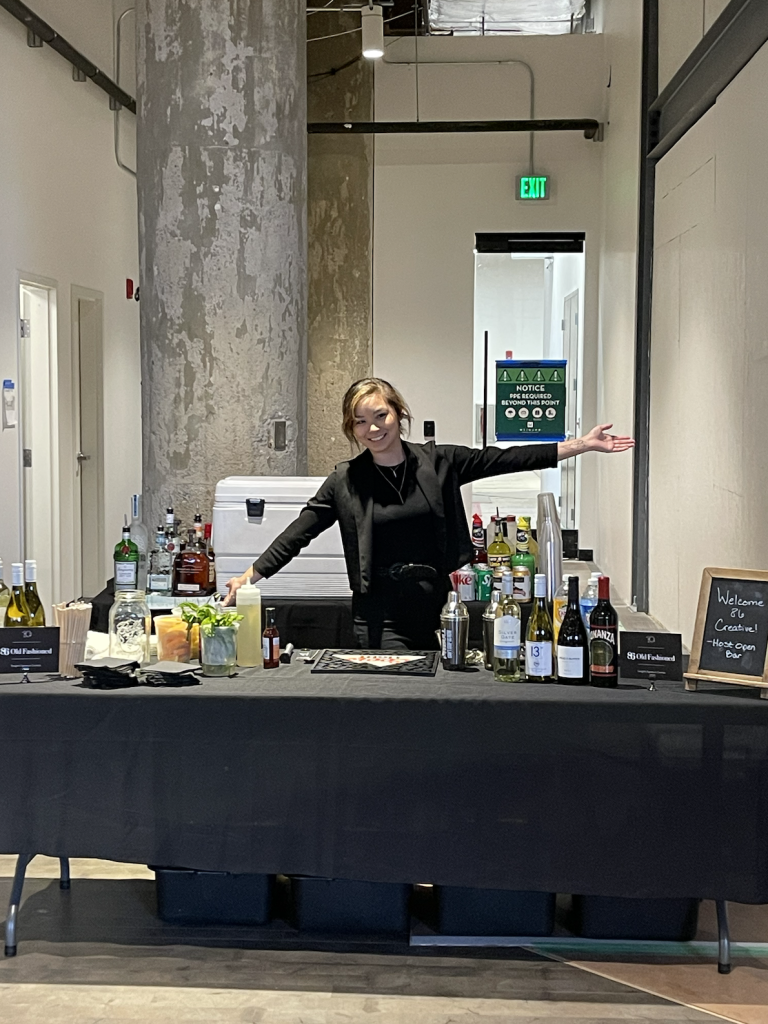 Other Bar Services
We also offer extended bar services aside from our mobile bar trailer. Inquire below to learn more!
Mobile Bar Inquiry
Beverage Services
---
All Bars include the following:
Assorted mixers, garnishes, disposable cups, napkins, stirrers, ice, linen, setup, and breakdown are included. This service can be provided from 3 to 5 hours.
Basic, Premium, & Top Shelf Bars
This service includes: Liquor liability insurance, and designated liquor, beer, and wine assortments. This is billed on a per-person basis billed to the host.
Beer & Wine Open Bar
This service includes: Liquor liability insurance, 2 types of imported and domestic beer, and five types of wine. This is billed on a per-person basis billed to the host.
Cash Bar
This service includes: Liquor liability insurance and designated liquor, beer, and wine assortments from the basic or premium bar selection. This is based on a per-drink basis and is charged directly to your guests. Set up & staff charges will apply
Frequently Asked Questions
---
What is the Charlie Horse Bar?
Charlie is a traveling full-service mobile bar based in a restored vintage horse trailer which was custom built to our specifications.
What do you provide?
Well, on top of our beautiful vintage trailer, we can also provide everything needed for your perfect bar. Depending on what package you choose our services include; your choice of compostable plasticware or glassware, straws, ice, garnishes, syrups, fresh-squeezed juices, mixers, friendly experienced bartenders, and personalized menu signage.
Can you host a Cash Bar?
Yes, because we hold a three-way liquor license we are able to accommodate a wide variety of needs for your event.
Where are you located?
We are based in Northeast Indiana but we love to travel! Travel within 30 miles of Fort Wayne carries no additional charge. Outside of this area a travel fee will be added to quotes.
Do you supply alcohol?
Yes, due to our liquor licensing and board of health requirements we are required to provide the alcohol.
Do you have a rain date policy?
Unfortunately, due to our advanced booking model, we cannot accommodate rain dates. In the event of rain, we are happy to work with your tent vendor to find the appropriate size tent for our mobile bar.
What are the technical requirements for the bar?
Our bar requires a flat ground and clear access for setup, service, and breakdown. A space of about 10 feet wide x 14 feet long x 10 feet high plus more space for your guests to gather is needed during the event. We also require one standard outlet within 150ft of the camper but don't fret if your event is located somewhere without electricity, we can add a generator to your package.
How far in advance do we need to book?
The earlier the better! Larger events and weddings are usually booked around a year in advance. Just remember that May through December is the busy wedding/holiday season so those weekends book up first!
Are you insured and permitted?
We carry liquor liability and general liability insurance to cover our services. All bartenders are TABC certified and hold their food handler's permits.
What is your payment and refund policy?
We require a $500 non-refundable deposit and a signed contract for all camper bar events. The remainder of the balance will be one month from the event date.
How do I book?
Start by sending filling our the form above and we can chat about the details of your dream event! We utilize Honeybook for our services.